Staging is one of the many ways to increase the selling price of your home before you accept an offer. By skipping this crucial step, you may risk your home being on the market for longer than it needs to be, and you can potentially miss out on the added value staging brings to your home! Although important, this process doesn't have to be expensive or stressful. We interviewed Abigail Halal from KLH Home Staging, and she explains everything you'll need to know about DIY staging your home – or reaching out for professional help.
Edited by Emily McGovern & Jenna Gagnon, Written by Abigail Halal
---
DIY Staging – The Do's and Don'ts
Question: How do you decorate a space to avoid clutter, but still give it character? Do you have any tips on this?
Answer: There's a thin line between staging and interior design… When in doubt, less is more. And remember: You're trying to appeal to the masses.
My two big tips would be to 1) depersonalize and 2) declutter.
Depersonalize… Remove all personal art, decor and family photos. When a potential buyer enters the property, the idea is for them to envision themselves living in the space. If they encounter the seller's personal photos, they actually begin to feel as though they are intruding on someone else's space… Not the goal!
Clear all surfaces… The floor is also a surface!
However, you don't want to leave a space feeling completely bare. Leave behind a minimal amount of "neutral items" such as candles, books, plants.
Question: Are there certain colors or styles (modern, farmhouse, etc.) that are more inviting, or more successful when enticing buyers?
Answer: While farmhouse is trending (and perhaps has had its moment) thanks to Joanna Gaines, it's best to stay true to the style of the property when staging. (I honestly get annoyed when I see sliding barn closet doors in Cambridge [MA]… WHAT!? Do you also have rooftop chickens!?) It's also important to consider the area as well as how you want to market the home. Is it a modern, city condo or a traditional, family home? You have to look at the whole picture…you can't just plug in the "farmhouse look" because it's trending! That would be too easy!
However, I find most stagers, including myself, tend to use a lot of mid-century modern furniture pieces because they work well with many styles (traditional, modern, farmhouse, etc.). Mid-century pieces also have longer legs that allow you to see the floor, giving the illusion of more space.
Question: How do you avoid overcrowding a space when staging a home? How do you know what size furniture/carpets/artwork is suitable for the space?
Answer: We simply measure! Regarding artwork, we can eyeball it… A larger wall simply calls for a larger piece and vice versa. You'd never want to hang a small piece of art on a large wall unless it's paired with others so it visually takes up space.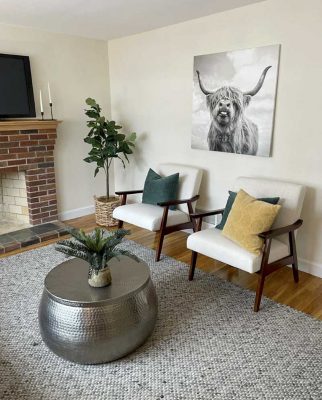 Question: Do you decorate surfaces (coffee tables, desks, countertops), and if so, what are the most important items to include/what needs to be avoided?
Answer: Yes, we style surfaces but minimally. For example, on a desk, you'll typically find a lamp, perhaps a book or a prop laptop and greenery. We tend to pair items in groups of three and of varying heights. This goes for coffee tables and kitchen countertops, as well! I'd say personal items are to be avoided. Put away the "World's Best Dad" mug!
Professional Help – How do I know if I need it?
Question: How does a seller know when they need staging? How do they find the right staging artist for them?
Answer: I'd like to think all seller's need staging to some degree…
If the seller plans to occupy the home when it's listed, it's important to have a fresh set of eyes walk the entire property to give tips and suggestions on how to show each space in its best light.
If the seller plans to move out prior to listing the home, then I suggest staging the property. We typically suggest staging the main living spaces (kitchen, living, dining) and master bedroom and bath. Even if the property is move-in ready, potential buyers typically have a hard time envisioning how to use the space. ("Where will I put my T.V.?" "Will my bed fit in here?") It's best to answer these questions for the buyer before they're even asked!
Question: How does staging affect selling price?
Answer: Statistics tell us: For less than 1% of your home's value, you can see up to a 10% increase in your selling price! Who doesn't like the sound of that? It's just that simple! Many believe that a property will sell without staging… And it's probably true! But you're leaving money on the table and most sellers don't want to do that!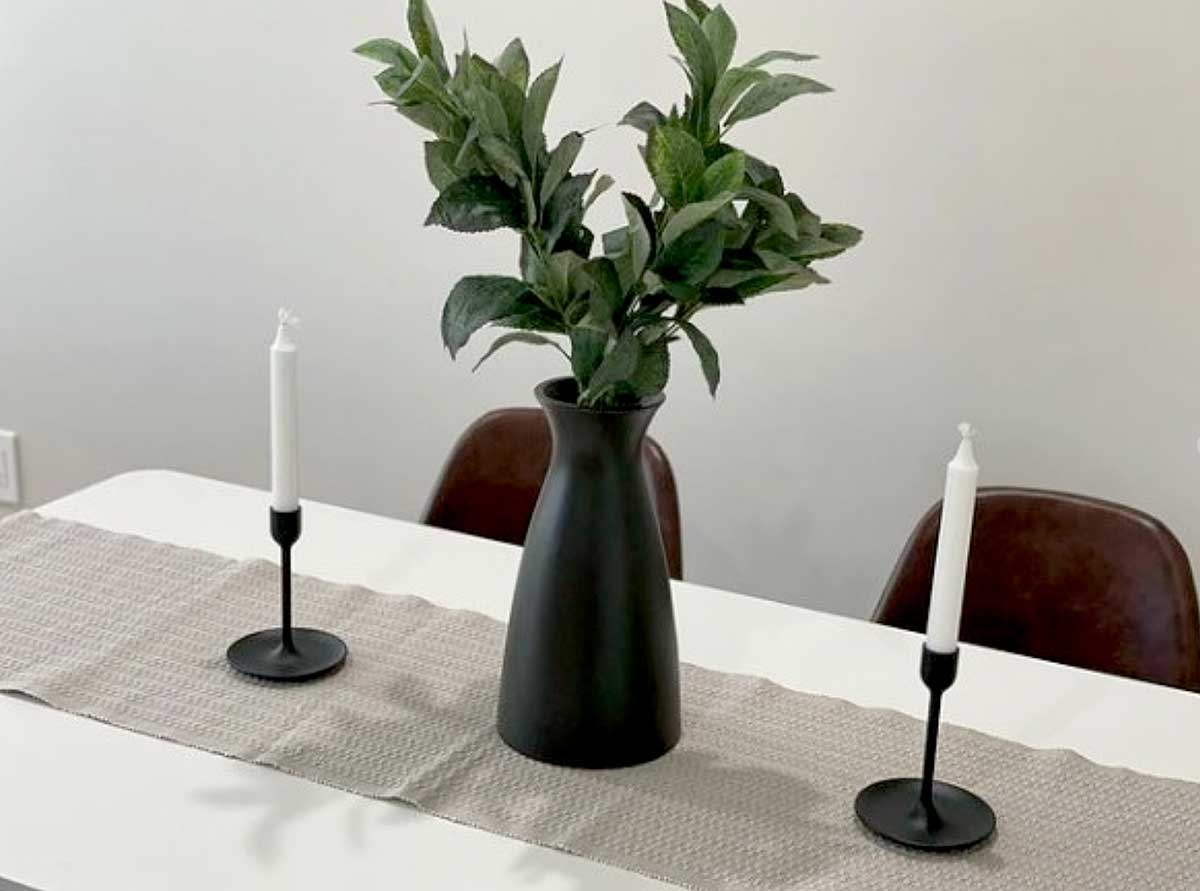 Question: Can you stage a home if it's being occupied?
Answer: Yes! Occupied home stages always begin with a consultation.
A consult is $250 and includes a walkthrough of your entire home with the seller and/or realtor. The seller will then receive a detailed home staging report with our recommendations, broken down by room.
Along with the report, we'll also send a quote for staging services if we feel the seller will benefit from an accessory rental. Sometimes a property just needs some additional art or lighting, or just one room requires staging. For example, there could be a spare bedroom that's been used as a storage or "catch-all" space… But it's best if that room is shown as a bedroom. We can return and stage that space as bedroom.
Question: Your client is working on a limited budget, what spaces take priority when staging a home if they can't afford the whole house? Are there any "make it or break it" spaces of a home?
Answer: We always recommend staging the main living areas (kitchen, living, dining) and the master bedroom and master bath (if applicable). Statistically, these spaces are the priority as reported by the buyer… where they spend the majority of their time and lay their head to rest! These are also the spaces we'd recommend updating and painting prior to staging if the budget allows!
We'd like to thank Abigail for sharing her best tips with us! If you'd like to check out her work or contact her for inquires, you can find her contact information below.
Abigail Halal
Project Manager, Home Stager
KLH Home Staging
KLHHomeStaging.com
Abigail@klhhomestaging.com
617-519-9133
Instagram: @stagedbyabigail