Have you been stressed out with design choices in your home? In theory, interior design is one of the most exciting endeavors of renovations, but oftentimes, it becomes the most nerve-racking. We asked our highly-rated interior designer Melanie Murphy, who is sharing her top secrets about making your dream home a reality (stress-free…phew)!
THE DO'S AND DON'TS OF INTERIOR DESIGN
Melanie shared her ideas of what to avoid and consider when redesigning a home while leaving creativity aspects up to the homeowner. Here's what she has to say about the focal points of your home-
The Living Room
Avoid: Sterile looking decor comes off as uninviting. For example, although wood blinds are desirable in theory, they add a sense of institutionalism that takes away from the cozy feel of a living space.
Consider: Incorporate custom fabrics instead of filling your living space with trinkets or unnecessary decor. Custom fabrics give your home a sense of individuality without the clutter, and these fabrics could include rugs, pillows, or window treatments.
The Bedroom
Avoid: Stray away from placing accent walls on busy surfaces. Your accent wall should be on a solid surface, with minimal obstructions.
Consider: Create balance among your space by mirroring your decor elements. For example, lamps, night stands, and accent chairs should all be purchased in pairs. This suggests a sense of cohesiveness, and makes your room feel more complete. This same idea of balance can be used in other spaces in your home.
The Bathroom
Avoid: Don't follow trends, as most can change within a few years. Instead, attempt to create a timeless design for the most longevity.
Consider: All white, tranquil bathrooms will give you a sense of longevity and peacefulness. Try to create a space that resembles a spa. If you would like to include color, try to incorporate colorful fabrics or decor. This could mean window treatments, shower curtains, or plants. Black framed photos with white backdrops are the most favorable decor for white bathrooms.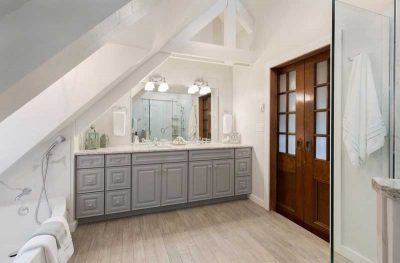 The Kitchen
Avoid: For functionality, avoid placing your dishwasher arbitrarily. Place your dishwasher next to your sink to avoid frustration in the future.
Consider: Be creative with your backsplash! Include some sense of individuality or personality into your design. For example, moroccan tiles or colorful and detailed designs create a captivating atmosphere without breaking the bank.
A Cohesive Space = Happy Homeowner
To create a cohesive space, buy furniture that is all within 5 inches of one another. For example, your couch shouldn't be 15 inches taller than your accent chairs. Avoid gray walls as well! Once a popular color, greige has become another trend that adds a sterile feel to your home. If you'd like to incorporate gray, try neutral walls with small doses of gray in your decor items. In the kitchen, for example, white walls with gray countertops is a timeless look that is popular by demand.
According to Melanie, the most requested design is minimalism. To achieve this, keep your decor to a minimum, and embrace adding your creativity in artwork or fabrics. Artwork is one of the best ways to add individualism and color to a space, while keeping clutter to a minimum. For smaller rooms, add mirrors to give the illusion of bigger spaces. To create a statement, opt for black fixtures around your home. Items like door handles, faucets, and shower heads make for bold features that coordinate well with their surroundings.
Conclusion
If you're still stressed about designing your home, consider hiring an interior designer. Prices can be very affordable, depending on what you ask of your designer. By choosing a professional for help, you may save yourself time and energy when designing your home. Professionals also have access to furniture and design stores not normally available to others, which allows you to further customize your space. To choose your interior designer, do your research! Check out portfolios and social media online, and consult with different designers to find how they can best help you.
Designing your home doesn't have to be stressful or expensive. Find inspiration through websites like Pinterest, and make your home your own!
Contact Melanie through the domii app or take a look at https://www.melaniemurphyinteriors.com/
Blog Authors Emily McGovern, Jenna Gagnon, and Allyson Melo.